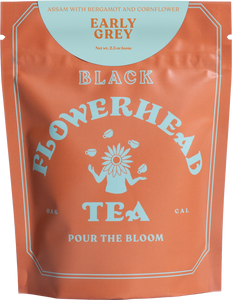 This tea embodies all the flavor and strength you expect from a classic Earl Grey. Assam teas are prized for their rich, malty, and robust flavors. Our assam is a hearty base for dots of bergamot, bright blue cornflowers and local citrus peel. It leaves you with a strong, energizing, floral cup!
Servings per bag: 20-25 Caffeine Content: High
Preparation: Steep 1 tsp in 8oz water (205˚-212˚) for 3-5 minutes"